Member of the Month – March 2021
Blacksheep Boutique Quilt Co.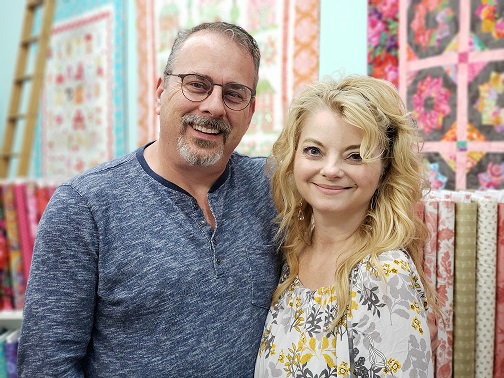 Blacksheep Boutique Quilt Co.
651 Washington Street, Eden NC 27288
336.944.5245
www.BlacksheepBoutiqueQuiltCo.com
Established October 2020
Come experience the 1940's vintage atmosphere and personal customer service of Eden's only Quilt Shop. Blacksheep Boutique Quilt Co. is a full-service shop, with high-end fabric and supplies from Moda, Free Spirit, Tim Holtz, Aurifil, Riley Blake, Andover, Art Gallery, Eversewn machines, and others. Plus, they carry sewing accessories, thread, patterns, notions, and more.  They also teach beginner and advanced quilting classes for quilters of all ages and experience.  And, for the husbands and sons who may not be looking for quilting supplies, they carry high-end custom-made knives.
The Blacksheep Boutique shop is located in the heart of downtown Eden, at 651 Washington Street, and can't be missed with it's bright, cheery Tiffany-blue colored brick and eye-catching sheep logo.  Originally built in 1940 as a jewelry store, the 13-foot-high ceilings are perfect for displaying the quilt samples, and the old vault is still in use for displaying fabric and sewing notions.   The proprietors, Kevin and Paula Thompson, have added other vintage touches such as an oversized 1940's chandelier, antique furniture used to display items, all centered around a huge refurbished farm table that serves as their cutting table.
Opening a new business in the middle of the COVID pandemic may seem a foolhardy decision, but the shop has already outperformed their original forecasts.  Kevin says, "The virus has caused many people to spend more time at home, with many learning and enjoying new 'domestic' hobbies such as painting, cooking, and sewing.  Our shop is filling a need for those that are brand new to quilting as well as experienced quilters needing supplies conveniently close.  We are seeing customers coming not just from Eden, Reidsville, and Danville, but even distant cities like Kernersville, Winston Salem, and as far away as Roanoke."
Kevin and Paula have been residents of Eden for nearly 4 years and live on Glovenia Street in a 1936 home.  They were both born and raised in small-towns, similar to Eden, where family, faith, and friends are the keys to a happy and fulfilling life.  Their mission is to bring those same values to the quilt shop.  They are proud to be part of Eden's downtown revitalization efforts and looking forward to adding a touch of elegance and a focus on customer service for all their customers.
Visit their website at www.BlacksheepBoutiqueQuiltCo.com.